PDF Agile Premium for Windows Lifetime Subscription $69
PDF Agile is a PDF editing tool that can be used to create, edit and convert PDF files.
You can use it to edit your documents, fill out forms, sign contracts, fill in PDF forms and much more.
You can use it to convert PDF files into Word documents or Excel spreadsheets.
Buy now and save 76% on the lifetime license!
Powerful Editing & Conversion Tools
Edit. Quickly & easily edit PDF documents, including scans without going back to the source files
Convert. Transform any PDF to & from Microsoft Word, Excel, and PowerPoint without losing fonts and formatting
Create. Convert or scan to PDF a wide range of file formats that anyone can view, with any PDF reader, on virtually any device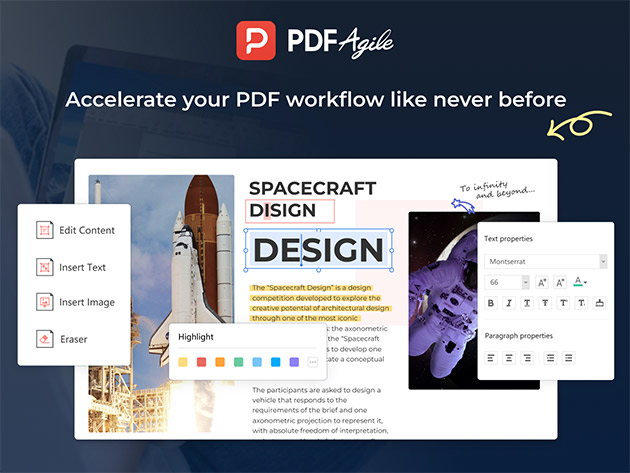 Streamline Reading & Annotating Experience
Read. Apply & switch between Read Mode, Full-Screen Mode, and Slideshow as you need
Comment. Freely mark up the texts with full-featured commenting tools, helping creators conveniently review the PDF documents
Annotate. Use highlighters, underlines, strikethroughs, texts, shapes & freehand drawings to communicate easier and better with PDFs
Secured Information Exchanges
Password Protection. Protect your PDF with a password to prevent unauthorized access to the file content, especially for file sharing or archiving
Redact Information. Permanently delete sensitive information, including specific text & illustrations from your PDF documents
Apply Electronic Signatures. Get your contracts or other documents signed electronically in 3 ways, helping you save both time & paper
A Lot More Features
Compress. Reduce the size of your PDF file without loss of quality
Merge. Combine multiple PDF files into a single PDF document
Split. Split a PDF into multiple files by page ranges
OCR. Extract text from any images or scanned PDF documents
Crop. Easily adjust the visible area of pages in a PDF
Rearrange Pages. Reorder PDF pages by dragging & dropping page thumbnails
Rotate. Rotate your PDF the way you need them
Page Number. Add page numbers into a PDF with ease
Link. Add hyperlinks or anchor links into a PDF with ease
Presentation. Transform your PDF into a visually stunning presentation
Screenshot. Make & edit screenshots, and extract text from them (OCR)
Search Text. Run a simple or case-sensitive search to find specific items in a PDF
Highlight. Highlight the text you selected with your cursor
Area Highlight. Highlight any selected area of a page
Print. Print a whole PDF file, a selected portion of a page, or specifed sections in a document
Page Size. Choose a size preset and resize your PDF document right away
Bookmark. Create a bookmark hierarchy to give you a well-structured view of the PDF's content
Background. Add a solid color background to your PDF document
Translate. Instantly translate any text in a PDF file from one language to another
Full Screen Mode. View your PDF document in full screen view
In conclusion, the PDF Agile Premium for Windows lifetime subscription is an excellent value. It provides users with a versatile and powerful PDF editor that can be used for a variety of purposes. The subscription is available for a very reasonable price, and it comes with a host of features that are sure to appeal to anyone who needs to work with PDF files. So if you're looking for a great way to edit your PDFs, the PDF Agile Premium for Windows lifetime subscription is definitely the way to go.