Winc Wine Delivery $155 of Credit for 12 Bottles
Winc is a new wine delivery service that offers you $155 of credit for 12 bottles of wine. With Winc, you can get personalized wine recommendations from an expert curator. The wines will be delivered to your door, and you won't have to worry about picking them up or dealing with the logistics of having them shipped. This is the perfect option for those who want quality wine without all of the hassle.
Enjoying a bottle of wine is one of life s simplest joys. Winc believes that a fine wine-drinking experience should be as simple as enjoying one. They craft and curate over a hundred wines, making the experience of exploring wine simple enough so that you can devote more time to enjoying the wine from your glass.
With this voucher, you get a discount of 40% upon purchasing 12 bottles of wine. Simply take a Palate Profile Quiz to get your individual wine recommendations. Expertly curated and delivered to your door. You might get a Pinot Noir, Cabernet Sauvignon, and so much more! Take the quiz now and have your wine delivered right to your home.
Terms of purchase:
All sales final.
Valid for new Winc members only.
Redemption required post-purchase on Winc 's website; instructions will be provided at checkout.
All purchasers must be at least 21 years of age. Proof-of-age may be requested at any time. Someone 21 years or older must be available to sign for delivery.
Offer only available in the United States.
This offer cannot be combined with any other offer. Currently unable to ship to P.O. mailboxes or to the following states: Alabama, Alaska, Arkansas, Delaware, Hawaii, Kentucky, Michigan, Mississippi, Rhode Island, South Dakota, and Utah. Offer is non-transferrable and only available to the users that qualify. Does not apply to gift orders. Packages returned to Winc as undeliverable will be subject to a re-stocking fee.
After receiving your first bottles, you can continue to receive hand-selected wines every month, cancel your membership, or skip a month at any time.
You will incur additional charges for tax post-purchase when you redeem your product.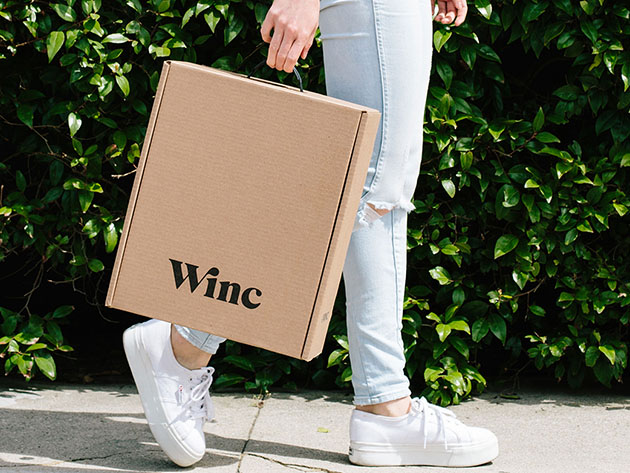 There is no denying that wine is a beloved drink the world over. But for wine lovers, there's nothing quite like finding the perfect bottle to perfectly fit their taste. That's why Winc always here for wine lovers. Winc Wine here to help you find the best wines for your palate.
Using Winc's Taste Profile quiz, you can create a profile of your preferences. Then, Winc will recommend wines that match your taste. You can also specify what kinds of wines you're interested in, such as reds or whites, and Winc will send you recommendations tailored to your taste. So if you're looking to explore new wines and find the perfect bottle for your taste, join Winc Wine today!
In conclusion, Winc wine delivery is a great way to get your hands on some high-quality wine without having to leave your house. For just $155, you can get 12 bottles of wine, which is a great deal when compared to the prices of wine in stores. Plus, Winc offers a 100% satisfaction guarantee, so you can be sure that you're getting the best wine possible. If you're looking for a great way to stock up on wine, Winc is definitely the way to go.